Building of 2D-contour map for the pi_x orbital of the nitrogen molecule without cube-file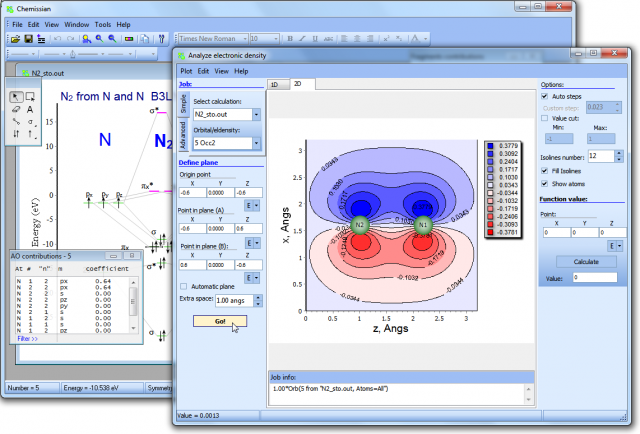 Chemissian can plot contour maps of molecular orbitals, charge density, spin density, and any linear combination of them directly from Gamess, Firefly and Gaussian output files without any cube-files.
In the figure two-dimensional contour map of the pix molecular orbital of N2 molecule is presented.
Quantum-chemical calculation of N2 molecule has been performed using B3LYP method and STO-3G basis set.
Then this output file was simply loaded into Chemissian program.
And Chemissian calculated and built contour map for the pix molecular orbital of N2 molecule.
All you need is simply to select either the number of MO or electronic density from drop-down list and click Go! button.
Wide range of options like isolines number, colors, atom size, bonds, etc. is available.
see also: