Assignment of peaks in spectrum editor using MO composition from gamess/Firefly/gaussian output files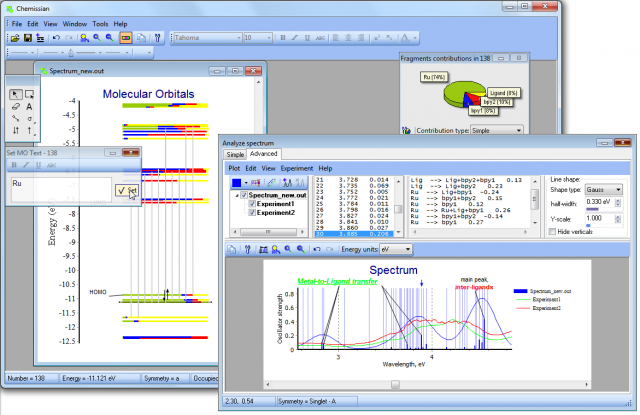 Chemissian has a rich Analyze spectrum tool to analyze TDDFT-CIS-calculated UV-VIS spectra, graphical editing it and adding experimental spectra.
Having you output files with calculated (i.e. GAMESS, Firefly(PC-GAMESS) or Gaussian output files) spectra data (using TDDFT or CIS methods) the Analyze Spectrum window will display them.
In the figure TDDFT-calculated spectrum and two experimental ones are presented. Using Chemissian tools one has investigated the nature of molecular orbitals (their localization, contributions from different molecular fragments) and the nature of transitions in the spectrum became clear (metal-to-ligand charge (MLCT) transfer, ligand-to-ligand charge transfer (LLCT), etc.). So now it is possible to add text labels to indicate obtained information directly on the diagram, i.e. to make peak assignment.
One can use keyboard cursor to move between peaks on the plot and the transitions (corresponding to this peak) will be shown on the molecular orbitals diagram. If one has configured molecule fragmentation than contributions from fragments will be shown on MO diagram.
Different options for the spectrum plot are available: Gaussian/Lorentzian line-shapes, colors, linestyles, etc.
Note: example of gaussian input string: #P B3LYP/Lanl2DZ TD(SINGLETS,NStates=45) Pop=Full gfinput
see also: