Orbital/Peak Selection tool
Summary
Use
Orbital/Peak Selection tool
to select molecular orbital in
the molecular orbitals diagram editor
or the spectrum peak in
the spectrum diagram editor
.
In the floating tool windows you will see some data about selected MO e.g.
MO-LCAO decomposition
,
fragments contributions
.
In the
MO Data window
one can associate the custom text with the selected MO.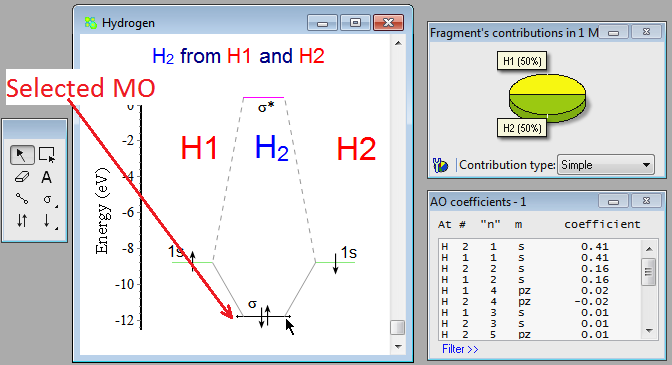 Usage
To use the
Orbital/Peak Selection tool
click the

icon in the
Draw Tools window
. Now click the mouse left button on a molecular orbital in
molecular orbitals diagram editor
or a spectrum peak in the
spectrum diagram editor
to select it.
Use the keyboard cursor buttons to move between molecular orbital enegly levels (or spectrum peaks), to see the information about selected MO/peak